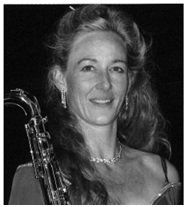 Sura Charlier, Composer/Performer, relocated to Rio Grande, Puerto Rico in 2023.  A graduate of Cornish College of the Arts (Seattle, WA), Charlier graduated summa cum laude with a degree in Music Composition.  While at Cornish, Charlier studied music composition, performance (sax, flute, clarinet, piano and voice), dance, and performing arts criticism.  She was active in both the Classical/New Music and Jazz departments, and received the 2000 Cascadian/Cornish Prize for music composition.
Charlier has over 45 years of experience as a professional performer, arranger, composer, private teacher and recording artist skilled in the styles of classical, jazz, blues, Latin, gospel, R & B, flamenco, show music, pop, and sacred music (classical through contemporary.)  Credits include membership in the Roadside Attraction Big Band, (including the Duke Ellington Sacred Concert, Gig Harbor and Bellevue Jazz Festivals), pit orchestras for touring Broadway Shows, the Village Theater, Civic Light Opera, Shoreline Community College, Broadway Bound Children's Theater, and performances with the Seattle Philharmonic, the Federal Way Symphony, the Federal Way Swing Band, the Seattle Seahawks Band, Lynyrd Skynyrd , Arthur Duncan, and La Peña Flamenca de Seattle.  She was a founding member of the Cascade Jazz Quintet, performing multimedia concerts of poetry, nature photography, live music, and dance.
Charlier's original compositions have been performed on KING FM's 'Live by George' show, at the Interfaith Council's Annual Thanksgiving concerts, at the Cascadian Singers' Voices of the New Millennium concert, at the Center For Spiritual Living's One Cry, One Voice concert, at the Shoreline Arts Festival, at the North Seattle Ballet, at the Vashon Voices Show Choir's Songs of Peace, Songs of Hope concert, and by the New Girls On the Block Jazz Orchestra. Her works have been commissioned by the Vashon High School Jazz Band, by saxophonist, John Hupp and by the woodwind trio, LAMORO. Her anthem 'Prayer For World Peace', was recently performed by the Mid-Columbia Mastersingers in a regional premiere in the Tri-Cities.
Charlier served as Music Director of Seattle-area community choirs, the Seattle Welsh Choir, the Vashon Voices, and the Seattle Sufi Choir. She has also served as music director at Wedgwood Community Church, Wallingford Presbyterian, Ravenna Blvd. Presbyterian, and Trinity Presbyterian churches, and as piano accompanist at the North Seattle Ballet.
Scholarships, Awards, Honors
Winner of the 2000 Cascadian/Cornish Prize for composition
Nellie Cornish Memorial Scholarship 1998
Cornish College of the Arts, Departmental Scholarship 1999, 2000, 2001
Presidential Achievement Award Scholarship 1999, 2000, 2001
Monterey All-Star Band, First Alternate 1980, 1981
Discography
Hopscotch, B & C Music, 2014
Mosaic, B & C Music, 2008
Big Huge Games' "Age of Empires III: Asian Dynasties", published by Microsoft 2007 http://www.stanlepardmusic.com/index.htm
Under the Bimba Blossoms, Alpha Tango, Savage Fruitarian Music (BMI) 2005
A Hundred Blooms, Alpha Tango, Savage Fruitarian Music (BMI) 2005
Goddess Rising, Sandra Locklear, ThunderEye Music 2000
Rumi – Fountain of Fire, SoulGarden Music (BMI) 1999
Rumi – Readings From the Soul, SoulGarden Music (BMI) 1996
The Suspect, Keith Baggerly and Roadside Attraction 1990
Colorblind to the Blues, Barry Gruber 1989